---
---
Origin of the Gramenz Family

I know of only two villages with the name Gramenz worldwide:
Gramenz, former district Neustettin, province Pomerania (53° 50' N, 16° 24' E)
old names: Gramencz 14111, Grumentcz 14311
today: Grzmiąca, Powiat Szczecinecki, Zachodnio-Pomorskie, Rzeczpospolita Polska
exists since 1377
hamlet:

Gramenzer Reihe/Gramenzer Busch (53°50' N, 16°31' E)
today: Grzmiączka, Zachodnio-Pomorskie, Rzeczpospolita Polska

Gramenz, former district Bütow, province Pomerania (54°12' N, 17°26' E)
old names: Grementz 13871, Grammentz 16182, Gramentz alias Grzymienica 16383, Grzmiaca 16861, Grammentz 17473
today: Grzmiąca, Powiat Bytów, Zachodnio-Pomorskie, Rzeczpospolita Polska
Both villages are ca. 70 km apart from each other.
Whether all families with the surname Gramenz originated from these areas is not yet proven. But it is striking, however, that the settlements of almost all families in the 18th and 19th century are located north, east, west and south of these Gramenz villages. It is therefore obvious that all Gramenz families actually have originated in Pomerania. More on that in the area Distribution of Family.
The Gramenz families from the former districts Wirsitz, Kolmar and Schubin
Regarding our family Gramenz the area of origin has been proved until the year 1765. Our main ancestor Gottfried Gramenz was born around the year 1765 in the village Birkholz near Gollin and Schloppe, district Deutsch Krone, province Neumark. In ca. 1793 he moved with two other Gramenz relatives to the district Wirsitz, province Posen to the new founded colonist's village Birkenbruch. From there the descendants and our ancestors spreaded south across the river Netze in the villages Liepe, Lindenwerder, Sokolitz, Sophienhof and Antonienhof, other family branches in Schwertheim/Mieczkowo and Ludwigsau/Ludwikowo. Therefore it seems possible that the ancient origin of our family could be connected with these villages Gramenz. However, by now there is apart from the family name and the settlement areas no direct evidence for that.
Birkholz, ehemals Kreis Deutsch Krone, Provinz Neumark (53° 08' N, 16° 04' E)
old names: Barkholtz 17891, Birckholtz around 1800
today: Brzeżniak, Powiat Wałecki, Zachodnio-Pomorskie, Rzeczpospolita Polska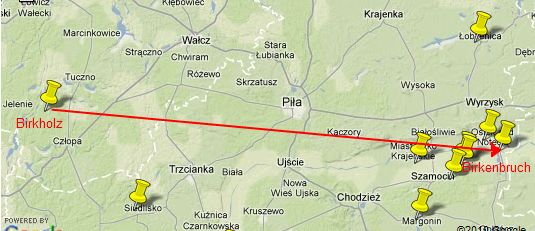 Resettlement of Johann Adam, Johann Friedrich and Gottfried Gramenz from Birkholz, district Deutsch Krone to Birkenbruch, district Wirsitz (ca. 1793)
As one can see in old maps of the district Deutsch Krone there was an area just beside Birkholz which was called "Birkenbruch". Perhaps the name of the new established colonist settlement Birkenbruch in the district Wirsitz leads back to this.
Birkholz was a so called "Vorwerk" (hamlet), a settlement which was smaller than a village. According to the land register of the administrative office Schönlanke (today archived in the Geheimes Staatsarchiv Preußischer Kulturbesitz in Berlin) there were living altogether twelve to fifteen families around the year 1804. Three of them were land owners, one of them a "Freymann" Gramentz. He was also the "Schulze" (village elder) of Birkholz. This "Freymann Gramentz" could only be the grandfather, father, uncle, cousin or brother of our three Gramenz which moved to Birkenbruch. According to the church records of Gollin and Schloppe this "Freymann Gramentz" could only have been a Gottfried Gramenz, married to Anna Elisabeth Krapp/Kropp who had at least two children: Daniel Friedrich Gramenz (Gramens), born at 01 March 1795 Birkholz, baptized 06 March 1795 at Schloppe and Carl Ludwig Gramenz, born 27 November 1797 at Birkholz, baptized 10 December 1797 at Schloppe. In the church records this Gottfried Gramenz is called as "Schulze" of Birkholz at this time.
According to these documents there also could have been a Johann Gramenz in the not far away village Arnsfelde which was a land owner and "Ackerwirth" (farmer, peasent), around the year 1799.
According to the churchbook duplicates of the evangelic church of Gollin this church must have been the main church for the protestants of Birkholz. In these church records our family name was written randomly in three different spellings: Gramenz, Gramentz and Gramens. According to the records at least one family branch must have remained in Birkholz. Between 1840 and 1856 a Carl Gramenz (partially written as Karl Gramentz or Carl Gramentz) and a Gottlieb Gramenz (Gramentz) occur repeatedly as godfathers. At the latest after 1860 in the evangelical church records of Gollin there is no further evidence of existing Gramenz in Birkholz.
By now it is not clear what may have happen to this family branch. I suspect that Gramenz living later in Bernsee/Kreis Arnswalde, Gornitz, Bernstein/Kreis Soldin, Landsberg/Warthe, Zanzhausen/Kreis Landsberg/W., Driesen/Neumark or Czarnikau could be descendants of this family branch.
It has been proved that a family line of the northern part of the South Posen Group, which is orginating from Steindorf/Waldsteindorf upon Warthe, province Posen, is related to the Nort Posen Group: C3 Steindorf Gramenz. There are strong indications that the origin of this Gramenz family line is also Birkholz.
---