---
---
Distribution of the Gramenz Family

Gramenz families are now spread all over the world, with main distribution areas in Germany and the USA.
This did not always look like this. Over time I have collected all regional references to Gramenz families from the 18th and 19th centuries (only the families with the original spelling "Gramenz"). This gives a clear picture:
Größere Kartenansicht
Regional references to Gramenz families in the 18th and 19th centuries (only spelling "Gramenz").
I know of only two places worldwide named Gramenz. Both small villages are situated in former Pomerania and are only 70 km apart from each other. It is striking that all the early Gramenz families have settled around these areas. Therefore it is obvious that the area of origin of all Gramenz families should be located in Pomerania too. It is absolutely possible that more than one family adopted the name of the village. That means that it is possible that not all of the Gramenz families must be related to each other.
During my research I have divided the typical Gramenz distribution areas in regional groups. A membership in a specific group does not necessarily mean a relationship to the other group members.
An exception from this so far are only the North Posen groups B0, B1 und B2. A close relationship between these members has been proved already by churchbook data.
Gramenz Pomerania Group A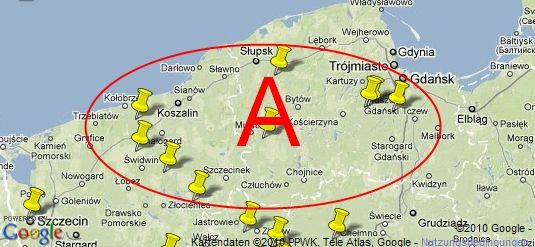 Gramenz Pomerania Group A
Associated Locations:
Peterfitz/Piotrowice, Kreitzig/Krzecko, Neu Buckow/Bukowko, Schloss Polzin/Polczyn Zdroj, Klingbeck/Radomysl, Neblin/Nobliny, Bartin/Barcino, Groß Dübsow/Dobieszewo, Steinforth/Brodzce, Sobbowitz/Sobowidz, Strippau/Trzepowo, Oberhölle, Danzig/Gdansk, Altfliess/Stara Rzeka, Osche/Osie, Bredow/Stettin/Szczecin, Labes/Łobez, Seeger/Zegre Pomorskie, Bresin/Brzeziny, Konarschin/Konarzyny, Kroßnow/Krosnowo, Lustebuhr/Włościbórz, Wartekow/Wartkowo, Klein Jestin/Gościnko, Rabuhn/Robun, Kolberg/Kołobrzeg, Alt Marrin/Mierzyn, Karkow/Karkowo, Groß Pobloth/Pobłocie Wielkie, Insterburg/Chernyahovsk/Черняховск, Köslin/Koszalin, Belgard/Białogard, Wisbuhr/Wyszebórz, Stolp/Słupsk
To the Pomerania Group I have done only very little research by now. Meanwhile, I got a contact with a descendant of the Pomeranian group. His ancestors were living in Bartin/Barcino, former district Rummelsburg, province Pomerania. Due to a conducted Y-DNA test for this member of a northern branch of the Pomeranian group we are now able to prove that this part of the Pomerania Group A and our North Posen Group B2 are not related. Thus we have the evidence that more than one family has adopted the family name. However, there are indications that this might have been done not independently from each other.
Gramenz North Posen Group B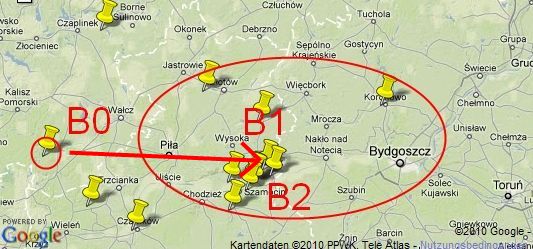 Gramenz North Posen Groups B0, B1, B2
Associated Locations:
Birkholz/Brzeżniak, Arnsfelde/Gostomia, Petzin/Zalesie, Lobsens/Łobżenica, Polnisch Krone/Koronowo, Lindenwerder/Lipia Góra, Antonienhof/Antoniny, Sophienhof/Zofjówka, Birkenbruch/Wyciąg, Sokolitz/Sokolec, Liepe/Netzliepe/Lipa, Margonin, Osiek/Netzthal/Osiek nad Notecia, Waldberg/Borowo, Friedrichshorst/Żuławka, Czarnikau/Czarnkow, Gornitz/Gornica, Battrow/Batorowo, Bischewo/Byszewo, Jeschewo/Jeżewo, Witzleben/Liszkowo, Bromberg/Bydgoszcz, Schwertheim/Mieczkowo, Ludwigsau/Ludwikowo, Wudzinek/Wudzynek, Prinzenthal/Wilczak
My family belongs to this group as well as my research colleague Margitta Gramenz. As we know now we both share the same male ancestor 10 generations back. The entire North Posen Group has been proved to be closely related to each other. As Margitta Gramenz has found out Johann Adam, Johann Friedrich and our ancestor Gottfried Gramenz (a cousin of Johann Adam) came in ca. 1793 from the 80 km to the west located village Birkholz near Schloppe in the district Deutsch Krone, province Neumark to the district Wirsitz in the province Posen and established the new colonist's village Birkenbruch. All members of the Nort Posen Group are descendants of these three Gramenz relatives. Sons of Gottfried Gramenz went later to the south over the river Netze (Notecia) and established with this the southern subgroup B2 of the North Posen Group. They settled in the villages Liepe, Sophienhof, Antonienhof, Lindenwerder and Sokolitz. Most of the members of the subgroup B2 left the province Posen to Germany before, during or after the Greater Poland Uprising (also called Posnanian War) in the years 1918 to 1919 as the settlement area of the subgroup B2 in the south of the river Netze has become then Polish territory. The last descendants of the northern subgroup B1 left the now also to Poland belonging territory to Germany around 1945 to 1947 due to the events after the end of World War II. However, it is possible that one or more branches of the North Posen Group B remained in Poland, as there are still some people in the area of Wyrzysk (Wirsitz) or Chodzież (Chodziesen/Kolmar) with the surname Gramenz. If You are one of them please contact me.
The whole family tree of the subgroup B2 - except one missing proof of a specific connection - has been reconstructed with the help of churchbook data.
The North Posen Group is related at least to one northern family line of the South Posen Group originating from Steindorf/Waldsteindorf upon Warthe, province Posen.
Gramenz South Posen Group C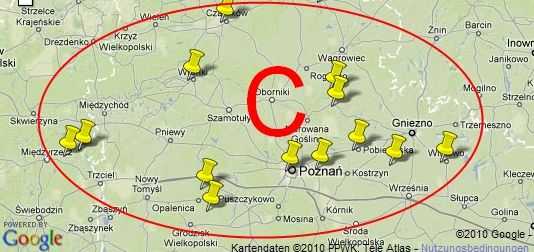 Gramenz South Posen Group C
Associated Locations:
Wronke/Wronki, Steindorf/Waldsteindorf/Jaryszewo, Schokken/Skoki, Rawitsch/Rawicz, Santomischel/Zaniemysl, Rewier/Revier/Rejowiec, Pudewitz/Pobiedziska, Posen/Poznan, Schwersenz/Swarzedz, Schwarzenau/Czerniejewo, Witkowo, Lagwig/Łagwy, Dakowy Mokre, Betsche/Pszcew, Politzig/Policko, Bnin, Schwichotschin/Świechocin, Rozbitek, Forsthaus Klopsee/Chlop, Weseram, Orzeschkowo/Orzeszkowo, Vorwerk Ludwigshöhe/Ludwikowo, Wierzonka, Pflugland/Mielno, Lagiewnik/Lagiewniki Koscielne, Kaminiek/Kamieniec, Czerwonak/Rotental/Czerwonak Wies, Karlowitz/Karlowice, Kowalski/Kowalskie
The South Posen Group is a very large group. Therefore it is not very likely that all members are related to each other. I was able to get in touch with several descendants of this group. DNA genealogy has proven that there is a connection between the northern part of the South Posen Group and the North Posen Group. This connection must be before the 19th century because the researches of the North Posen Group haven't shown any connections by now. Therefore the connection could be earliest in Birkholz.
Gramenz Group D
Associated Locations:
Greifswald, Berlin, Breslau/Wroclaw, Neusulzfeld/Nowosolna/Łódź, Paris/Bessarabia/Ukraine
This group is not a regional group in a strict sense. It is only for recording of Gramenz families without a known group reference.
From all groups there are descendants in Germany. A lot of other descendents emigrated to the USA (A, B1 and C) and to Australia (A, C). The Australian descendants are probably from the Pomerania and/or the South Posen Group. Only from our subgroup B2 of the North Posen Group there are no descendant abroad.
---